MASKS WITHOUT BORDERS INITIATIVE
in collaboration with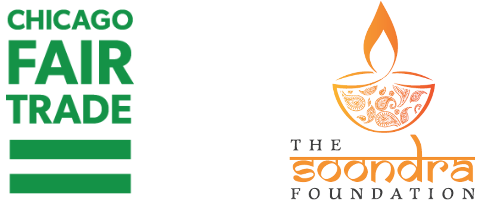 ISSUE 1: MASK ACCESS
Ever since the beginning of the pandemic, masks have been a crucial component in staying safe + healthy, but the truth is that not everyone has access to masks. 
ISSUE 2: DISPOSABLE MASKS ARE CHEAPER, BUT END UP IN LANDFILLS
For those who do have access to masks, disposable ones are the most affordable, however these masks have been ending their lifecycles by polluting our landfills.
ISSUE 3: COVID-19 HAS DECIMATED WORK OPPORTUNITIES
In India, COVID-19 has been the cause of increasingly high unemployment rates. We've been having more women knocking on our doors, asking for help now more than ever before.
In efforts to help we've teamed up with Chicago Fair Trade and The Soondra Foundation. We're bringing on a new cohort of women at WORK+SHELTER to make masks out of 100% organic cotton fabric scraps from our t-shirt production. We're going to put these scraps to use by providing them to people in-need of masks in both Chicago, IL and Delhi, India.
WANT TO LEARN MORE?
Drop your name + email below and we'll follow up with details on how to get involved!