WORK+SHELTER.ORG

is a non-profit that supports women in New Delhi, India.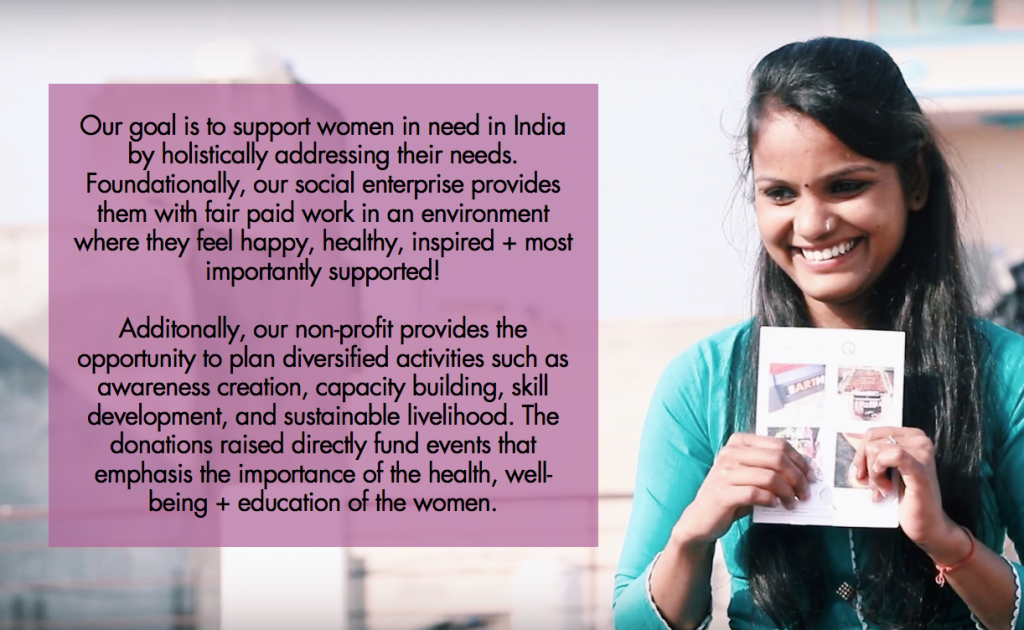 HEALTH
Health is a top priority for our women at WORK+SHELTER. While we recognize they do not have great access to healthcare, we provide them with a variety of check-ups throughout the year. We have professionals come in to perform general physical check-ups, along with dental and vision check-ups. These professionals also take the time to educate the women on best practices of how to stay healthy.
Beyond that, we had a health specialist come in to teach the women about COVID safety, including proper hand washing techniques and mask wearing protocol to keep them safe + healthy both at home and at work.
WELL-BEING
WELL-BEING
Delhi, India is home to a great deal of smog, also known as air pollution. In efforts to ensure our women are breathing in clean, safe air at work everyday, we update the Shelter's air filtering system regularly.
We've also secured a couple of new workspaces so that the women can spread out and maintain proper social distance from one another while at work.
EDUCATION
EDUCATION
Our women work very hard each day so that they are able to support themselves and their families, however that leaves them with no disposable income. The funds we raise allow us to organize educational trips for the women and their families to enjoy in places that they regularly cannot afford access to.
Aside from educational trips, we dedicate time towards helping these women to learn English. During the multiple lockdowns throughout the pandemic, the women were unable to "work from home" so instead they would spend time calling one another to practice their English.
LEADERSHIP + DEVELOPMENT
LEADERSHIP + DEVELOPMENT
Leadership + development are foundational to WORK+SHELTER's values, which is why our training program is entirely free and has no prerequisites to join. Each woman that enrolls is taught to sew, starting with the basics and moving up to more complex pieces. Once their training is complete we offer them full-time employment on the spot to our sister company, WORK+SHELTER.
We've also worked with Qnity, to organize leadership events where a representative came to the Shelter and taught the women how to set both personal and professional goals for themselves, as well as learning best practices to achieve those goals.
Being that we are a woman-owned organization, we put a great deal of focus on promoting + encouraging female leadership, whether that be supporting the women throughout training so that they're able to progress into full-time employees or just simply shouting out their successes along the way.
ENVIRONMENTAL IMPACT
ENVIRONMENTAL IMPACT
We are becoming increasingly aware of the impact WORK+SHELTER has on the environment as we continue track all of our waste. In efforts to keep our waste to a minimum we use our leftover fabric scraps to make face masks, clothing, rugs, and other items that we then donate to local orphanages.
We finish out each year by supplying our women with a fun new reusable product to encourage a greener lifestyle. This past year we gave them reusable water bottles, plates, and cups to help eliminate unnecessary waste.